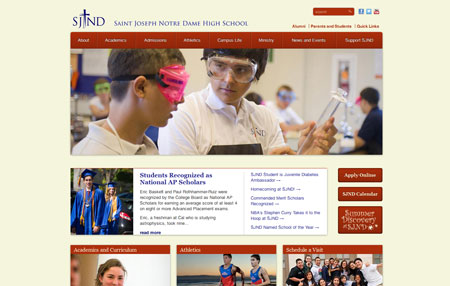 Saint Joseph Notre Dame High School, a Catholic parish high school in Alameda that offers a rigorous college preparatory education, needed an updated website.
It was time for a design that would allow for complex functionality, saving staff time and serving their customer base better.
SJND asked us to update their existing design, make it easier to update content (they were tired of Contribute!), and allowing them to use more diverse content, such as videos and albums. We worked with them on a proposal to redesign the site in the Content Management System called Drupal, which is extremely customizable. Their new site:
Provides ability to change structure (move pages and sections), add drop-down menus
Consolidates information, such as calendars and news
Keeps home page content dynamic by bubbling up information from throughout the site, such as calendars and news, FAQs, resources, etc.
Adds advanced features, such as site search and multiple logins, and basic mobile responsiveness.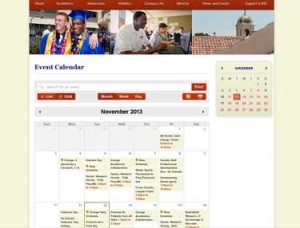 We created a calendar with categories and alternative layouts, with multiple log-ins for team convenience. The News section can now be categorized and archived, and links back to the email newsletter. The course catalog can be queried and filtered by department, type of class, etc., and provides links to the relevant staff member.
We created several dozen basic pages, with space for section titles, text, photos, and hosted video, incorporating information that was "floating" off the site in PDFs and creating top links or collapsible sections for pages with extensive info. Training the SJND staff on the new site and making sure they're comfortable adding their own content was part of our proposal, as always. We've worked closely with their team to get them at home in their new internet home.
SJND also chose a T324 support plan to make sure their site stays up to date and secure going forward; when they need us we're just a phone call away!