Source:
Why should my website be mobile?
You might not know this, but when websites are created, they aren't all necessarily made to be compatible with hand held devices, like cell phones or ipads. We here at T324 think that's rediculous and totally un pro to
say the least. And here's why.
In 2014 about %20 of internet users in the US got online via their desktop computer only. And in just one year's time, that number was slashed in half. Today, just one year later, roughly %10 of all internet users are using desktop only. That means about %90 of all people out there online, are online via their mobile phone.
And some people are choosing to ditch the desktop experience almost completey: 34% of cell internet users go online mostly using their phones, and not using some other device such as a desktop or laptop computer.
While 1 in 10 times someone goes to the Amazon.com page via a mobile device, they buy something. So what? Great for Amazon but what about me? Could you imagine if 1 in 10 times someone logged on to your site you closed a new sales deal, locked in a new long-term client, or simply saw the dollar signs raise in your bank account. People are increasingly using mobile devices to actually process a purchasing transaction. As technologies advance and allow easier payment facilitation, people are turning to mobile sites to seal the deal.
And the bottom line is, Money Matters... When we look at how many people in the US have cell phone access, we know that it is %90 of the population. But broken into age groups is even more surprising. The age groups of 18-29 and 30-49 are at about %98 cell phone usage. Basically anyone with a job out there making their own money has a cell phone. The national average is brought down due to the fact that the age group of 65+ is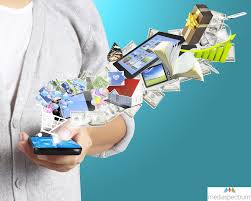 at 74% for cell phone possession. And not trying to write our grandparents off, but the older demographics tends to spend far less per capita than their younger counterparts anyhow.
The benefits of having your website available in flawless clarity across all cell phones out there makes perfect sense to us here at T324, and we don't need statistics to prove it. But duh… We're tech nerds who live our lives mostly online, and that's also why we build some of the best and most advanced websites out there. But if you're a business owner looking for a new website, and you are on the fence for paying a bit more for having a mobile compatible website, now you shouldn't be. A non-mobile compatible website translates to one thing these days, less money.